Madikwe Game Reserve is currently the fifth largest game reserve and is also one of the lesser- known parks in South Africa. This makes it a hidden- gem as it is regarded as one of the best conservation areas in Africa and offers the Big 5 in a 680 km2 park (750 km2 including newly incorporated privately owned land). The park offers a number of luxurious lodges as well as community lodges in a malaria- free zone.
The land where Madikwe Game Reserve now stands was previously used as farming land. The poor soil meant that farming was mostly unsuccessful and the South African government then decided that it would best be used as a national park to help economically uplift the disadvantaged area..
About 90 kilometres north of the town of Zeerust is Madikwe Game Reserve. It is situated against the Botswana border close to the Kalahari Desert. It is roughly 3.5 hours in a car from Johannesburg/ Pretoria. Safari Lodges are mostly located around the eastern and western gate.
In 1991 the area was declared a reserve and 10 000 mammals were relocated from other National Parks. The park is home to approximately 66 large mammals and roughly 300 bird species. You will find all this flora and fauna in an area comprised of vast open plains of grasslands, woodlands, rocky outcrops and single mountains. The area is bordered in the south by the Dwarsberg Mountains.
Shuttle / Transport / Transfer Rates:
Shuttle to Madikwe:      
From:   O R Tambo, Lanseria, Pretoria, Sandton or Johannesburg
 To:       All lodges entering via the MOLATEDI GATE
 R 4 000.00   1 – 3 passengers 
 R 4 400.00   4 – 5 passengers 
 R 4 800.00   6 – 7 passengers
 R 5 200.00   8 – 9 passengers
 From:   O R Tambo, Lanseria, Pretoria, Sandton or Johannesburg
 To:        All lodges entering via ABJATERSKOP, WONDERBOOM & TAU GATES
 R 4 500.00    1 – 3 passengers 
 R 5 000.00   4 – 5 passengers 
 R 5 500.00   6 – 7 passengers
 R 6 000.00   8 – 9 passengers
FOR LARGER GROUPS, KINDLY FILL IN OUR QUICK QUOTE FORM OR EMAIL NOW
Big 5 & Wild Dogs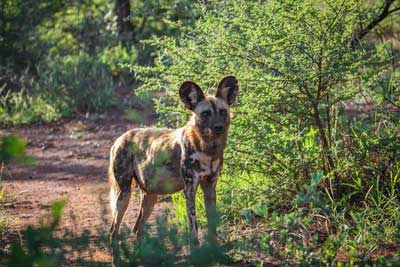 The Big 5 is represented in the park and you are likely to spot a lion, leopard, elephant, rhino or buffalo during your stay. During your visit you will also have the rare privilege of possibly seeing the highly endangered African Wild Dog.
In 1994, a small group of six wild dogs were introduced into the park. This founding group has seen a challenging introduction into the park with rabies outbreaks, territorial clashes and encounters with some feisty lions.
Despite the odds, current day Madikwe has a thriving wild dog population with three hunting packs roaming the park. The dogs are somewhat accustomed to safari vehicles offering spectacular photographic opportunities. Madikwe Game Reserve's conservation efforts to protect the 'painted dog' are in place to help conserve this majestic diminishing species.
What to Expect
Madikwe Game Reserve operators in a three- phase system. The North West Parks and Tourism Board, the local communities and the private sector are all involved:
The private sector funds the construction of game lodges. Employees at the lodges are drawn from surrounding villages to help uplift the area.
The park board sets up the infrastructure and is responsible for the operational management of the park. Part of their job is also to identify suitable land for lease to the private sector.
The reserve is one- of a-kind and is known for its involvement in the local communities. Community Lodges are owned and run by the local people, creating a healthy economic environment.
Madikwe Game Reserve has a combination of gravel and tar roads. Final access to all the lodges in the park are via gravel roads.
Conditions of these roads vary depending on the season and the weather. Most (2×4) smaller vehicles will be able to make their way around the reserve but we advise against the use of sports cars and vehicles with low ground clearance.
You may be required to drive 10- 30 km's on gravel roads before you enter the park depending on which gates you enter through. Always drive slowly in the park.
Shuttles To Madikwe Game Reserve 
Transport To Madikwe Game Reserve
Road Transfers To Madikwe Game Reserve